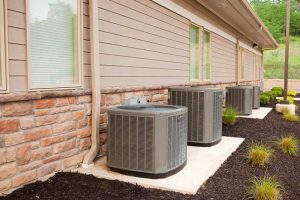 When thinking of home, comfort often comes to mind. If your HVAC system isn't running efficiently, you are sacrificing comfort and paying higher energy bills. Star Services Heating & Air Conditioning provides outstanding residential HVAC services, including home HVAC maintenance contracts for homeowners' HVAC needs in the Atlanta area. Our full coverage contracts include one flat price for all maintenance, repair and replacement costs. This requires us to be experts in predictive/proactive maintenance and repair, catching the small issues before they become big ones.
Home Heating & Cooling Services Include:
Emergency HVAC Service
Gas Logs and Fireplaces
HVAC Contracts
HVAC Installation
HVAC Maintenance
HVAC Repair
Water Heater Replacements
Residential HVAC Installation
Building a Dream Home?
Star Services Heating & Air Conditioning provides complete design and installation services for residential customers in Atlanta and surrounding communities. We carry all major brands and guarantee our equipment and installation prices will not be undersold. We'll provide detailed equipment and installation prices for your review. All work is performed by highly qualified technicians and is guaranteed. Email us today for a free analysis of your Heating and Air Conditioning needs and a free quote. Star Services will design a HVAC system that assures years of comfort, energy efficiency and trouble-free operation. We're currently offering up to $1,250 in discounts on the installation of new Carrier systems.
Finishing a Basement?
Turning that unfinished basement into additional living and playing space? The right HVAC equipment, coupled with the right design and quality installation, will add significantly to your enjoyment. Star Services Heating & Air Conditioning can provide recommendations as to the right equipment and the right HVAC installation plan at no charge. We'll also provide a detailed price quote and an estimate of time required to install your new system. Of course, our installation plans always seek to minimize your ongoing energy and equipment maintenance costs.
Replacing Existing System?
Are you looking to replace your residential heating and air conditioning system? Star Services Heating & Air Conditioning expert technicians can identify the right type of residential HVAC system for you. Not only will it be the most efficient system for your needs, it will also fit your budget. We offer 10-12 year part warranties depending on brand as well as labor warranties.
Residential HVAC Maintenance
An Ounce of Prevention
The best way to minimize your energy bills and HVAC equipment costs? Preventive maintenance! The old saying, "An ounce of prevention is worth a pound of cure," certainly applies to your residential heating and air conditioning equipment. Star Services Heating & Air Conditioning highly recommends semi-annual preventive maintenance checks; one prior the beginning of the heating season, and another prior to the cooling season.
Benefits of Planned HVAC Maintenance:
10% Discount on Additional Repairs Required at Time of Maintenance Inspection
Automatic, Regular Inspection Service
Lower Utility Bills
Lubricating, Adjusting and Cleaning Keeps Your Heating and Cooling System Running Efficiently
Peace of Mind
Potential Problems Are Spotted Before Trouble and Major Expense Occur
Preferential Emergency Service Scheduling
Our Preventive Maintenance Program
We provide two annual system inspections; one for heating season and one for cooling season. Payment can be made on a monthly or yearly basis.
Each Inspection Includes the Following Service Checks:
Adjust or Replace Belt as Required
Advise if Chemical Cleaning Is Needed
Check Belts, Bearings and Drivers
Check Electrical Connections
Check Motor Mountings
Check Operation of All Safety Controls
Check Operation of Blower Motor and Lubricate as Required
Check Operation of Compressor and Condenser Fan Motor
Check Operation of Thermostat
Check Overall Operation and Cycling of Cooling System
Clean/Flush Condensate Drain Pan/Lines
Inspect and Adjust All Ignition Devices, Pilots and Burners
Inspect Condenser Coil for Dirt and Leaks
Inspect Furnace Venting System
Inspect Heat Exchanger
Note and Report Any Deficiencies
Record Amp Draw at Compressor
Record Gas Pressure at Manifold
Record Suction and Discharge Pressures
Record Temperature Drop across Coil
Record Temperature Rise across Heat Exchanger
Service Filters
Residential HVAC Repairs
Repair or Replace that HVAC Equipment?
As residential heating and air conditioning units age, the incidence of repair naturally increases. Routine maintenance will extend the useful life of your HVAC system, but at some point, all equipment will need minor, and perhaps major, repair. Star Services Heating & Air Conditioning expert technicians can identify and complete any repairs necessary to keep your residential HVAC equipment operating at peak efficiency. We can also assist in identifying the point where replacing your equipment makes more sense than continuing to replace it. On average, that point occurs at about 12 years of service. Replacing poorly functioning equipment can increase your comfort, and new units tend to be more energy efficient that older equipment. When the time to replace draws near, we can help determine the best replacement system for you, and can even help with financing.
Current Repairs
Is it taking longer than usual for your HVAC system to heat or cool your residence? Do your electric or gas bills seem to be increasing over time? Have you noticed the equipment turning on and off more frequently? It's time to schedule a diagnostic visit. For $75, a technician will travel to your residence, perform a complete diagnostic test and prepare in itemized list of any required repairs. The technician will also advise if a preventive maintenance package is in your best interest. Many times, routine preventive maintenance can extend the life of residential HVAC systems, and eliminate or postpone the need for costly repairs.
Residential HVAC Emergency Service
Wow! It's Hot (or Freezing) In Here!
We hope you never need us for an emergency repair call on your residential heating or air conditioning equipment. But if you do, it's comforting to know that Star Services Heating & Air Conditioning has highly qualified technicians on call, 24 hours a day, seven days a week. We guarantee our technician will be at your residence within 24 hours, but in most cases, much sooner than that. If special circumstances make your system downtime an exceptional hardship, we'll dispatch a technician within minutes of receiving your service request. Our technician will run a complete diagnostic check of your residential HVAC system, review the necessary repairs and costs with you and, with your approval, get your equipment operating properly.
Before Requesting Emergency Service:
Be Sure the Gas is On
Be Sure Thermostat is Set On "Heat" or "Cool" as Needed and Set Properly
Check All Switches, Fuses and Circuit Breakers to Be Sure There Is Electricity to the Unit
Check Filters to be Sure They Are Not Clogged